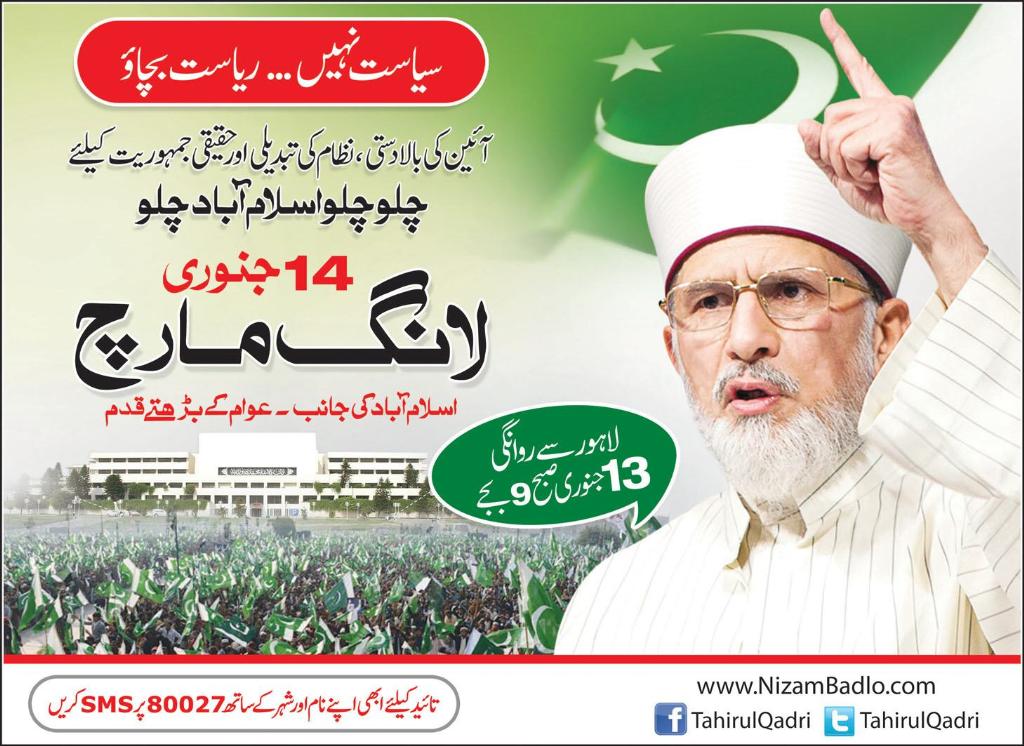 Dr. Tahir-ul-Qadri long march started from Lahore to Islamabad has entered in 2nd day. Today Tuesday 15

th

Jan 2013 Dr. Qadri addressed publically with the surge of three hundred thousand people in Islamabad.
Their collective slogans however are "we want change & get rid of corrupted people". We believe in real democracy where people of the country gets bread, a home for living, a clean glass of water, sewerage system, electricity, gas, transport, medical facility, education, job & justice will be easily accessible to a normal citizen of the country. He further added that there is rampant insecurity, rising corruption in the country, mismanagement everywhere except judiciary and armed forces of Pakistan as Dr. Qadri said in is public address. He also addresses in English for 40 minutes for international media and foreigners living in Islamabad he added.
In the crowd there are women, men and children even the kids of 6 months and 1 year old and still the Sit-In are continued. They are well disciplined and no violent of any sort mentioned by one of human rights NGO at Islamabad.
Its people persistency that in such a freezing season at Islamabad whole the night they remained passive and sit in open sky while next morning when their leader Dr. Qadir addressed publically they were fit, vibrant and looks very active said by a political analyst debating at national TV about the crowd.
Dr. Qadri put 7 demands before the govt. 4 among 7 were to dissolve the assembly in federal and provinces and announce care-taker govt. with honest and loyal people, to conduct election date and cleanse the electoral process so that a fair, free & impartial election may held on a particular date to bring leadership to the parliament from middle and lower classes.
Instead to see the same rusted and abused faces to whom the nation has cursed and suffered a lot since decades such characters have been occupying the parliament with fraudulent, they buy election; they buy election ticket and don't allow others to contest in election. They don't serve the people rather professional who loots and the country, embezzle people's money and crush the poor segment to cry for the whole year. So in coming election such figure should not be repeated emphasized Dr Qadri.
Now while he was addressing publically his aides informed him that Supreme Court of Pakistan has asked NABs to arrest Prime minister of Pakistan in a verdict of Rental cases where 16 officials of PPP including him were involved in embezzlement of Rs.60 billion bribes. Such verdict from the Supreme Court made the participants of 'long march' happier and they bowed their head before Al Mighty Allah in recognition of invoke. Though it was a coincidence that at the time when everybody was asking to dissolve the assembly but through court verdict it went easier said by one analyst.
However tomorrow will be 3rd day of Dr. Qadri long march call who will address with the same participants having still Sit-in before parliament with women, men, children and kids in open sky. The govt. should intervene and see the demand the Dr. Qadir otherwise Human Rights & International media will interrogate the Govt. of Pakistan said by group of foreigners living in the country.